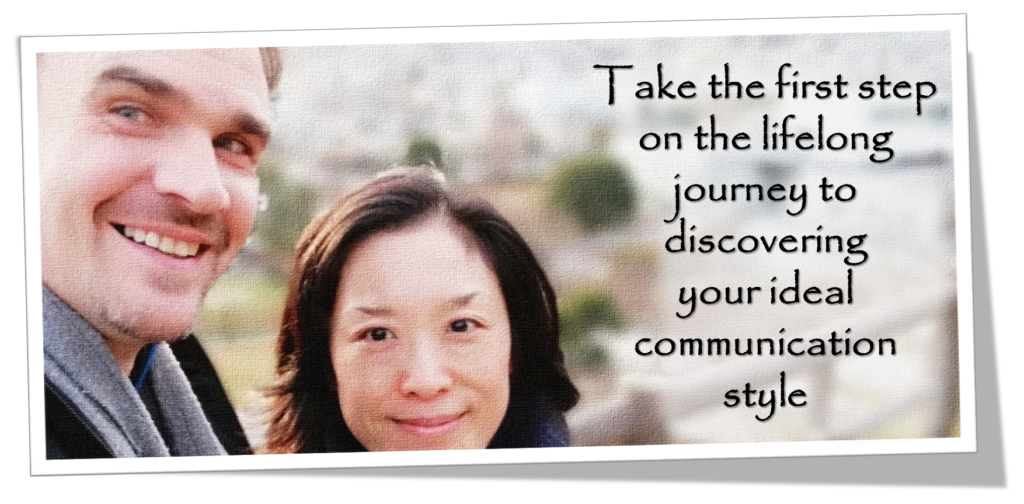 Communication Shapes
YOUR RELATIONSHIP
You know how sometimes conversations didn't go the way you expected them to? You feel misunderstood. Or worse: attacked. In partnerships, if you have too many of these, it's the beginning of the end.
But there's a way to make sure you really understand each other and feel connected. With TAIWADO, we want to share our best tips & tricks with you.
How to get from MISUNDERSTANDINGS to CONNECTEDNESS.
How to handle CULTURE-CONFLICTS while RESPECTING DIVERSITY.
How to never get BORED because every real conversation is an ADVENTURE.
Yoko & Ben
KIMURA-GROSS
Hi there! Yes, we're another international couple in Berlin, and it's become so commonplace, we're not surprised that half our friends are in international relationships.
Sadly, not all relationships work, and the break-ups are never pleasant. We've seen a few of those too, and it seems couples come with two types of attitudes, Some think they are made for each other, or not. Either it's a perfect match or it's not worth it.
Our attitude is that people develop and change to become good for each other. Of course it doesn't work without mutual attraction, but it's where you take it from there that makes a relationship really exciting.
It's How
YOU SHAPE IT
So, strictly speaking, we don't have relationships, we shape them, day by day, with the way we communicate. Communication is the core component of our relationships.
Of course, communication is more than just words. It's not abstract, it's practical. You don't become a great communicator by comprehending some abstract principles, but by practical training.
So Much
EXPERTISE
We are bookworms. Yes, there, we've said it. And there's SO MUCH EXPERTISE out there – it's mind-boggling! Nowadays, intercultural communication experts can benefit from insights from
other communication experts
intercultural studies and sociology
neurobiology, psychology and more
In fact, there are so many good books out there, we can't help but share our enthusiasm for a few → TOP PICKS!
Please note that this is the best available literature in 3 languages: English, Japanese, and German. We're always on the lookout for translations into YOUR LANGUAGE and will let you know as soon as they become available.